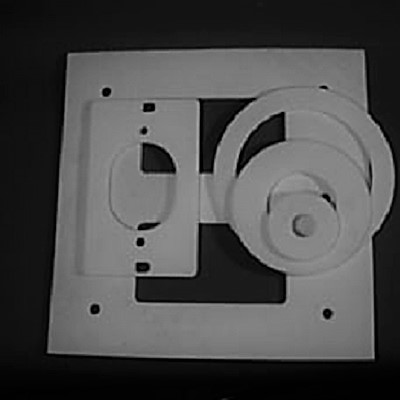 General Info
SILICA-MAGNESIA, NON-RCF PAPER TYPE RSPA-SOL
ZRCI Silica-Magnesia Papers Type RSPA-SOL are thermal insulation products capable of withstanding continuous operating temperatures up to 1260°C (2300°F). Type RSPA-SOL papers are designed to have enhanced in-vitro solubility characteristics which enable them to meet European regulatory requirements for synthetic vitreous fibers (European regulatory requirements directive 97/69/EC).
These unique papers exhibit excellent chemical stability and resistance to attack from most corrosive agents. Exceptions include hydrofluoric acid, phosphoric acid and strong alkalis. Type RSPA-SOL papers also provide superior wetting resistance to molten aluminum alloys at high temperatures. Type RSPA-SOL papers will generate small amounts of smoke and trace element outgassing during initial exposure to temperatures above 230ºC (446ºF).
Properties
| | |
| --- | --- |
| Typical Composition, % |   |
|      SiO2 | 74 |
|      MgO  | 24 |
|      Other Oxides | 2 |
|      LOI, % | 7 – 10 |
| Density, g/cc(pcf) | 0.16(10) |
| Color, | White |
| Type of Binder, | Organic |
| Fiber Index, % | 70 |
| Maximum Use Temp.*,C(F) | 1260(2300) |
| Melting Temp, C(F) | 1500(2730) |
| Mullen Burst, kPa(psi) | 385(55) |
*Maximum use temperature is dependent on variables such as stresses, both thermal and mechanical, and the chemical environment that the material experiences.
**Properties expressed parallel to thickness.
‡Properties expressed perpendicular to thickness.
Insulating Value of RSPA-SOL
The following table summarizes the insulating characteristics of RSPA-SOL Paper.
Insulation Thickness

3mm(1.12″)

6mm(0.24″)

Hot Face °C(°F)

Cold Face °C(°F)

650(1202)

377(711)

296(565)

900(1652)

513(956)

408(766)

1175(2147)

659(1218)

530(985)
ZRCI Silica-Magnesia Papers Type RSPA-SOL according to directive 97/69/ec, posses a fibre chemistry within the regulatory definition of a "man-made vitreous (silicate) fibre with random orientation with alkaline oxide and alkaline earth oxide content greater than 18% by weight." These fibres have been tested pursuant to EU protocol ECB/TM/26,Revision 7, Nota Q, Directive 97/69/EC, with results that are below regulatory thresholds. As a result, these papers do not require additional labeling or further testing. In addition, Intratracheal Instillation Biopersistance Testing per the German Hazardous Substance Ordinance has been conducted on these fibres with results that are below German regulatory thresholds. Refer to the product Material Safety Data Sheet (MSDS) for recommended work practices and other product safety information.
Composition
Instructions
Uses Include:
Annealing Cover Seals.

Flexible High Temperature Pipe Insulation.

Furnace, Kiln, Reformer and Boiler Lining.

Furnace Door Linings and Seals.

Investment Casting Mold Wrap.

Expansion Joint Seals.

High Temperature Filtration.

Nuclear Insulation Applications.

Glass Furnace Crown Insulation.

Useful When Refractory Ceramic Fiber Are Not Desired.

Thermal Reactor Insulation.

Soaking Pit Seals.

Reusable Insulation For Field Stress Relieving Welds.

Insulation For Primary Reformer Header.

High Temperature Gasketing.

High Temperature Kiln and Furnace Insulation.

Fire Protection For Pressure and Cryogenic Vessels.

Lining For Incineration Equipment and Stack.
PDF
Download the RSPA-SOL Paper PDF File
Other Information
AVAILABILITY
Please call, fax or e-mail for pricing and availability.
| | |
| --- | --- |
| ITEM # | DESCRIPTION |
| PS85 | RSPA-SOL2, 24″ X 150′ X 2mm |
| PS86 | RSPA-SOL2, 24″ X 570′ X 2mm |
| PS87 | RSPA-SOL2, 48″ X 75′ X 2mm |
| PS88 | RSPA-SOL2, 48″ X 570′ X 2mm |
| PS89 | RSPA-SOL3, 24″ X 100′ X 3mm |
| PS90 | RSPA-SOL3, 24″ X 350′ X 3mm |
| PS91 | RSPA-SOL3, 48″ X 50′ X 3mm |
| PS92 | RSPA-SOL3, 48″ X 350′ X 3mm |
| PS93 | RSPA-SOL4, 24″ X 80′ x 4mm |
| PS94 | RSPA-SOL4, 24″ X 320′ x 4mm |
| PS95 | RSPA-SOL4, 48″ X 40′ x 4mm |
| PS96 | RSPA-SOL4, 48″ X 320′ x 4mm |