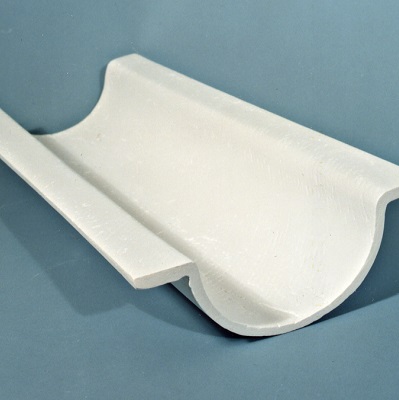 General Info
ZIRCAR Refractory Sheet Type RSLE-56 Moldable is a high silica fiber reinforced ceramic composite material that is easily cut and formed into flat sheets in addition to a wide variety of simple and complex shapes. When dried RSLE-56 Moldable becomes a hard rigid structure. Further heat treatment or exposure to process temperatures significantly increases the physical strength of this material.
RSLE-56 exhibits a very low coefficient of expansion 1.0 x 10-6 °C  which provides remarkable resistance to the thermal shock up to 1200°C (2192°F) in an oxidizing atmosphere and permits its use with rapid variation in temperature in that zone. Beyond 1200°C (2192°F) it transforms into a crystalline structure, while maintaining its properties up to 1650°C (3002°F) providing that there is no significant fall in temperature. At temperatures above this the material will exhibit surface glazing.
Engineered and produced with low thermal expansion raw materials RSLE-56 exhibits greater thermal shock resistance than moldable alumina matrix composites. RSLE-56's binder is locked in place and will not separate from its supporting fiber reinforcement resulting in an homogeneous structure throughout the material. RSLE-56 is 100% inorganic and once dried undergoes little or no outgassing.
RSLE-56 also exhibits exceptional non-wetting properties when used in contact with molten non-ferrous alloys making it useful in numerous molten metal contact applications.
RSLE-56 is 100% organic free and contains no refractory ceramic fiber. It is readily machined to precision tolerances with conventional tooling.
Properties
Other unique properties of RSLE-56 are:
Low thermal conductivity.

Excellent electrical insulation

High chemical purity.

Excellent resistance to corrosion (from molten metal and glass).

Composition, wt%

 

          SiO2 

99

          Other oxides 

<1

          Organics 

0

          LOI 

2

Solids Content, % by weight 

73

Density Dry, g/cc (pcf) 

1.36(84)

Porosity,% 

36

Color 

White

MOR, dry, psi 

1100

MOR, 10 hr.@370°C(698°F) ,psi 

2300

MOR, 16 hr.@1000°C(1832°F),psi 

3800

Compressive strength, dry, room temp.

 

          @ 8% consolidation, psi 

1700

Compressive strength, 16hr @ 1000°C(1832°F)

 

          @7% consolidation, psi 

7200

Drying shrinkage , linear (%) 

2

Drying shrinkage , thickness (%) 

3

Hardness, Durometer "D"

          Dry 

54

          10 hr. @ 370°C (698°F) 

70

          16 hr. @ 1000°C (1832°F)

83

Thermal Conductivity** ASTM C-1113

     W/m°K(BTU/hr ft² °F/in)

          200°C(392°F)

0.55(3.8)

          400°C(752°F)

0.64(4.4)

          600°C(1112°F)

0.61(4.2)

          800°C(1472°F)

0.67(4.6)

          1000°C(1832°F)

0.75(5.2)

* Maximum use temperature is dependent on variables such as stresses, both thermal and mechanical, and the chemical environment that the material experiences.
** Properties expressed parallel to thickness.
‡ Properties expressed perpendicular to thickness.
Composition
High Hot Strength

Immune to Thermal Shock

Flexible and Strong

Fully Machinable

Non RCF
Instructions
SUGGESTED APPLICATIONS
Induction coil liners.

Glass furnace repairs.

Hot flue linings.

Hot press insulation.

Hot face insulation where gas velocity is of concern.
Application Instructions
Refractory Sheet Type RSLE-56 Moldable is a wet blanket shipped rolled up on a plastic tube, separated and wrapped in plastic. Type RSLE-56 Moldable can be shaped and molded prior to drying and firing, permitting the fabrication of complex shapes as well as flat sheets.
To make a flat board: Open plastic covering and unroll the desired amount of Refractory Sheet Type RSLE-56 Moldable. Cut to size with a knife. Dry on a rigid glass, wood or metal plate separated by a layer of plastic, cloth or paper. Dry at a temperature of 140°F until dry. A 1/2" thick sheet of RSLE-56 Moldable will dry completely in 16 to 24 hours. Prevent warping by either restraining or flipping over to allow drying from both sides. RSLE-56 Moldable can be dried at much higher temperatures without adverse impact upon the product.
To make a cylinder: Select a smooth mandrel of the desired size and shape. Wrap mandrel with plastic sheet. Cut enough Type RSLE-56 Moldable off roll to make the desired shape. Cut a bevel on the leading edge of the RSLE-56 Moldable with a knife. Wrap the RSLE-56 Moldable around the mandrel to achieve the desired wall thickness. Work joints together with a tool such as a knife, spatula or screwdriver to achieve as much fiber to fiber interlocking as possible. Wrap wet cylinder with porous cloth to hold RSLE-56 Moldable in place while drying. Dry at a temperature of 140°F until dry.
To make complex shapes: Make a mold, plaster will work, with sufficient draft to allow the removal of the formed RSLE-56 Moldable. Form the RSLE-56 into or onto the mold or form by hand working the material to achieve both complete contact with the mold and to achieve the desired surface texture. Dry at 1400F until dry. Large complex shapes can be made by joining sheets of RSLE-56 Moldable together achieving as much fiber to fiber interlocking as possible. RSLE-56 Moldable adheres to itself well during drying.
Other Information:
Once dried, RSLE-56 Moldable becomes permanently rigid. Reseal packaging around unused material.

Do not allow RSLE-56 Moldable to freeze. Freezing will cause the silica matrix to separate from its fiber reinforcement.

RSLE-56 Moldable exhibits a shelf life of approximately 120 days. After 120 days RSLE-56 Moldable will become stiff and will break upon flexing.

Firing RSLE-56 Moldable will increase its physical strength. Dried and fired RSLE-56Moldable can be sanded, drilled and cut with conventional tools.
Casting table and trough liners
PDF
Download the RSLE-56 Moldable PDF File
SDS (in PDF format)
Other Information
AVAILABILITY
Please call, fax or e-mail for pricing and availability.
| | |
| --- | --- |
| Item # | Description |
| HS30 | RSLE-56 Moldable Sheet, 24″ X 36″ X 1/8″ |
| HS31 | RSLE-56 Moldable Sheet, 24″ X 36″ X 1/4″ |
| HS32 | RSLE-56 Moldable Sheet, 24″ X 36″ X 1/2″ |
| HS33 | RSLE-56 Moldable Sheet, 24″ X 36″ X 3/4″ |
| HS34 | RSLE-56 Moldable Sheet, 24″ X 36″ X 1″ |
PRICES ARE SUBJECT TO CHANGE WITHOUT NOTIFICATION AND ARE SUBJECT TO ZIRCAR REFRACTORY COMPOSITES, INC. TERMS AND CONDITIONS. ALL PRICES ARE F.O.B. FLORIDA, NY AND ARE IN U.S. DOLLARS