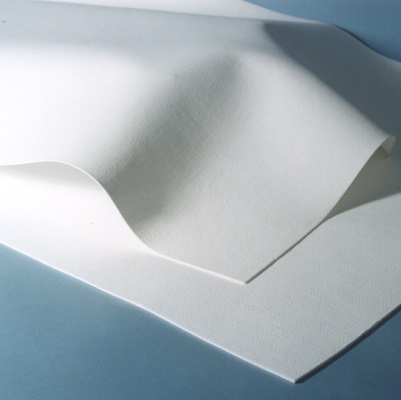 General Info
ZRCI Zirconia Felt Type RS-ZFELT is a mechanically interlocked textile structure composed of 4-6 micron diameter yttria-stabilized zirconia fibers. It is designed for uses in extremely corrosive environments and high temperatures.  The felt is 100% fibers and contains no binders.  It undergoes no phase transitions on temperature cycling and is a very effective thermal insulator, capable of use at temperatures exceeding 2000°C (3632°F).  The stabilized zirconia composition permits the advantage of fibrous insulations to be extended into temperature regimes well above the melting temperatures of silica and alumina insulation materials.
RS-ZFELT is equally useful in strong oxidizing and reducing environments.  It is not reactive to alkali vapors, salts or strong hot solutions and is not wet by most molten metals.  It has low adsorption surface area and vapor pressure, 8×10-12 Torr at 1370°C (2500°F) makes it ideal to use in vacuum applications
RS-ZFELT retains its fibrous nature to 2480°C (4500°F) but loses its flexibility after being heated to about 1370°C (2500°F).  Its specific heat increases from 0.13 BTU/lb °F to 0.18 at 2371°C (4300°F).
The thermal conductivity of RS-ZFELT is lower than that of the foam, bubble and grain forms of zirconia; thus, substitution of the fibrous insulation for these forms will improve thermal efficiency in existing installations.
Although yttria-stabilized zirconia is a semiconductor and becomes electrically conductive at high temperatures, it does not conduct with RF in the KiloHz frequency ranges.
RS-ZFELT is available in 18" X 24" sheets and in three standard thicknesses: .050", .100", and .150".
Properties
Properties (Nominal)
RS-ZFELT
Available Thickness, inch
.05, .100, or .150
Bulk Porosity, %
96
Bulk Density, lb/ft3 (g/cm3)
15 (0.24)
Tensile Strength, lb/in width
0.6
Melting Point, °C (°F)
2593 (4700)
Maximum Use Temperature, °C (°F)
2000 (3632)
Minimum Wrapping Diamater Before Breaking, inch
0.25
Vapor Pressure @ 2500°F, Torr
8 x 10-12
Linear Shrinkage, 1 hr. @ 1650°C Isothermal Soak, %
5
Specific Heat BTU / lb – °F
@ 93°C (200 °F)
0.13
@ 2371°C (4300 °F)
0.18
Composition
Chemical Composition (Nominal)
Oxide
Wt%
ZrO2
89+
Y2O3
10
Al2O3
<0.01
SiO2
<0.02
Instructions
SUGGESTED APPLICATIONS
Thermal insulating in induction heating, crystal growing, hot pressing, metal and glass melting applications
Electrolytic cell separators as well as battery and fuel cell separators (KOH electrolyte)
Excellent setter and fixture materials in powder metal applications
Chemical and gas filtration media – hot alkalis and chlorides and in organic burnout type filters
Diffusion burner membrane in gas fired heaters
Hot isostatic press insulation in multiform insulation systems
RS-ZFELT Features
Useful in high vacuum
Temperature rating to as high as 2000⁰C (3632⁰F)
Phase stabilized with 10 wt% Yttria
High purity
Low thermal conductivity (K)
100% inorganic, no off-gassing or odors
Excellent in corrosive, oxidizing & reducing atmospheres
Flexible to 1350⁰C (2462⁰F)
High porosity
Very light weight
Wrappable
Easy to cut
Machinable
Can be die cut
Can be cemented or rigidized
PDF
Download the RS-ZFELT Zirconia Felt PDF File
SDS (in PDF format)
Other Information
AVAILABILITY
ITEM #    DESCRIPTION
PX80       RS-ZFELT, 18" X 24" X .050"
PX81       RS-ZFELT, 18" X 24" X .100"
PX82       RS-ZFELT, 18" X 24" X .150"
Custom boards, shapes and preparations are available on request. Our forming processes, large Inventory of custom tooling and state of the art machining techniques allow a wide variety of sizes and shapes to be made. Special geometries such as disks, rings and custom-machined shapes can be fabricated. Tight tolerance machining, compositional variations and the application of surface, rigidizers and hardening agents are available. Please contact us with your special requirements.