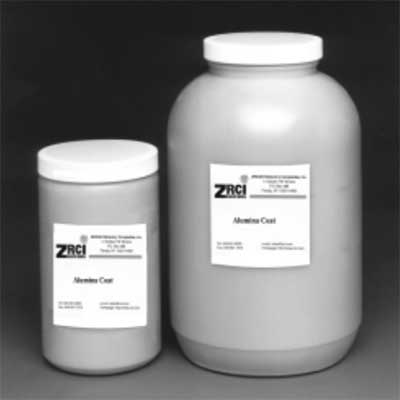 General Info
ZRCI ALUMINA COAT is an all-alumina liquid formulation used for hardening and increasing the refractoriness of the surfaces of alumina and alumina-silicate fiber products. ZRCI ALUMINA COAT  is composed of high purity aluminum oxide in a water base. Hardening of the surfaces of blanket and felt insulation improves the resistance to erosion by high velocity gases and reduces the permeability of gases. The tendency of flame burn-through of low density ceramic fiber insulation in many cases can be prevented by a coating of ZRCI ALUMINA COAT .
Ceramic papers, including alumina and alumina-silica paper can be rigidized with the liquid. Strong laminated tubes or complex shapes can be built up from saturated paper. Treated materials are ready for use as soon as they become dry.
The liquid is easily applied by brushing, rolling, dipping, sponging or spraying. It may be diluted with water if desired. ALUMINA COAT  is non-flammable and is not affected by freezing.
When applying with spray equipment, adequate ventilation and precautions against inhalation of particles should be provided. After the physical water has been removed by normal evaporation or by heating, a bond forms that stiffens the fibrous material. Coverage will depend on the degree of hardening desired. One gallon covers 100 ft2 if sprayed as a thin coating about 1/16″ thick.
Properties
| | |
| --- | --- |
| Color, | Milky White |
| Alumina Purity, % | 99 |
| Alumina Content of Liquid, wt % | 28 |
| Weight per gallon, lbs. | 9.8 |
| Maximum Use Temp.*, C(F) | 1650(3002) |
| Melting Point, C(F) | 2050(3722) |
* May be limited by the use temperature of ceramic fiber treated.
Composition
Used to Harden Alumina and Alumina Silica Papers and Textiles
Instructions
SUGGESTED APPLICATIONS
ALUMINA COAT  is used as a surface hardening and strengthening agent for low density alumina and alumina-silica ceramic fiber paper, blanket and board insulation.

ALUMINA COAT  is used as a bonding agent in the manufacture of "All-Alumina" high temperature composites and laminates.

ALUMINA COAT  is used to stop flame and hot high velocity gas erosion of furnace linings.

ALUMINA COAT  is used as a binder and extrusion aid in the manufacture of refractories
PDF
Download the Alumina Coat PDF File
SDS (in PDF format)
Other Information
AVAILABILITY
Please call, fax or e-mail for pricing and availability.
| | |
| --- | --- |
| Item # | Description |
| QS01 | ALUMINA COAT, 1 Quart |
| QS02 | ALUMINA COAT, 1 Gallon |
| QS03 | ALUMINA COAT, 5 Gallon |
| QS04 | ALUMINA COAT, 55 Gallon |
PRICES ARE SUBJECT TO CHANGE WITHOUT NOTIFICATION AND ARE SUBJECT TO ZIRCAR REFRACTORY COMPOSITES, INC. TERMS AND CONDITIONS. ALL PRICES ARE F.O.B. FLORIDA, NY AND ARE IN U.S. DOLLARS