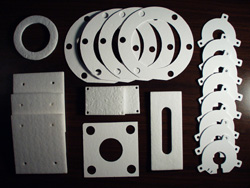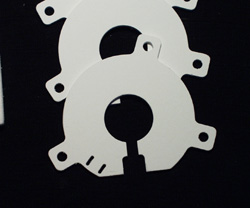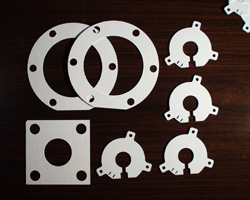 Die-Cut, Hand-Cut and Slit, Superior Quality Products Made From 100% Asbestos-Free, Non-Metallic Material.
All Products Specifically Designed for High Temperature Industrial Solutions Up To 1650°C (3000ºF).
Small to Large Orders Manufactured in Any Size or Shape to Exact Customer Requirements.
Guaranteed Fast Turnaround, Personal Service, Very Competitive Prices with Proven Gasket-Cutting Experience.
Die-cut Parts Provide an Economical Means of Meeting Gasket, Spacer and Seal Requirements.
Textile, Blankets, Papers and Various Composite Materials are Available.
Engineering Services
ZRCI employs the latest design and engineering technology to support customers' product requirements. Its capabilities include AutoCAD with electronic format file exchange and material development.
Press Capabilities
For components with varying degrees of complexity and size, ZRCI maintains a series of flatbed clicker presses ranging in size to meet any job.